Just some of SkyRiver's Puppy Brags!
Marlie Jo, owned by Mark
Hi Choral, this is Mark. Marlie Jo just turned 9 months (Echo x Pow litter 2016!) and is retrieving like a machine. 14 ducks this morning and she never lost one. Turning out to be a great
Mater, owned by Mike and Family. Yakima, Washington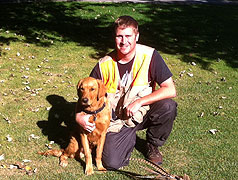 Hi Choral. My family bought the red collar pup from you and I was just sending an update on our little guy (not so little anymore). Mater has turned out to be an excellent gun dog. He has shown an incredible drive for upland game with a great nose. At five months he was finding and retrieving birds just as well as our more experienced dogs. Last week I was walking through a big field and all of a sudden Mater wasn't next to me. I called him and he came running over with a live pheasant in his mouth. We didn't shoot it. Crazy. Actually he's our hunting party's first choice for finding a down bird in thick cover that the other dogs couldn't find. On another note he's been a very happy and energetic part of the family. Best friends with our little boy that just turned one he follows him all over waiting for a dropped piece of food. He's taken really well to all the training I've provided and we couldn't be happier. Such a beautiful dog and I just wanted to say thanks again for providing the best possible fit for our family!
Saca, owned by Carlene. Clancy, Montana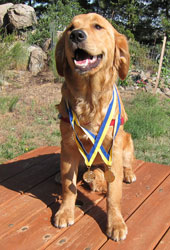 Miss Saca now has 2 AKC S.T.A.R. puppy awards, going for a 3rd. And she is just growing too dang fast!!
Carlene
...........................................................................................................................
My little Saca is now 9 months old, already!!

She is now in Adolescent II class which is more challenging, will work her brain--last week we were the only ones there (only 3 in the morning class) so we got a great private session with Nancy. We worked on Free Style moves and Saca really enjoyed it and picked the moves up quickly, except for a couple that are giving her trouble but she will get them. But she learned 9 new commands. Her vocabulary has really increased, knows so many words. She's a keeper. I posted several pics from that session last week on FB.

We have been working with Freezy retrieving long-distant dummies with a launcher. Last week at first we just let Saca watch but then let her go and she took off like a rocket, only she did not come back to us but went to lie in shade with her treasure!

But this weekend she did a couple of remarkable retrieves. Pat shot one out into some tall grass and she went past it but then started making short back and forth casts until she got! I have not done any casting with her so I was pretty amazed.

Then Pat shot one in another direction, tall grass and forbs, but it went over the cedar fence into the front dog yard. So I walked up with her, went into the yard, lined up with the dummy and told her to fetch. At first she looked at me like "are you sure?" I said fetch again and she ran over to the fence and down the length of it. She went past the dummy by about 5' but then caught its scent and whirled around, picked it up and brought it to me. She is a natural. Also a super lover.
Dusty, owned by Dave and Kathy. Yakima, Washington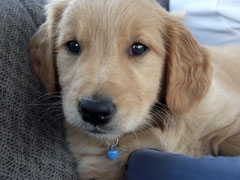 Hello Choral,
It's good here from you, I hope all is well with you and yours.
Dusty is the best dog in the world! Kathy says I spoil him, I have to continually remind her that he poops peppermint sticks. I did have to agree with her that he was getting to big to be in bed with us anymore, but he's happy to have his own bed on the floor next to me.
Dusty is incredibly smart, he learned to sit, shake hands, lay down, stay, and fetch with ease. I found out on accident that he's not afraid of guns, I shot a coyote with a rifle not realizing that he was standing near me, it didn't bother him at all....
Dusty loves the water, he has his own little swimming pool on our deck. Him and I have spent several days swimming at the lake this summer, he will run and jump off the end of the dock to go swimming with you and/or retrieve a water toy. He loves to ride in the cab of the truck with me, he still sits on the arm rest in the middle so he can see everything, although it won't be long before his head hits the roof.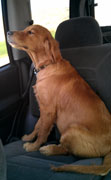 Dusty has all of his puppy shots and will be getting neutered sometime this Winter. Our Veterinarian loves Dusty and has offered to take care of him if we need to go out of town, although I would probably never leave him with anyone but family.
As you probably already know... I make it sound like Dusty is "my dog", I'm only kidding myself, he became the entire families dog the minute I brought him home. He is well loved and stays very active.
Later,
Dave.
Jaeger, owned by Kevin. Anchorage, Alaska
Jaeger made the trip in great form. There was little or no whining – he slept most of the way on the flight. He appears to be adjusting well here – already out for his second potty break after having food and water.
We really enjoyed meeting you and we were both extremely impressed with your operation. The care and attention to detail with the pups will make a big difference in their future. I hope everyone else is as excited with their puppy as we are with Jaeger.
...............................................................................................................................................................
Jaeger is doing great. He is just as bright and has all the drive we hoped for. Didn't get to throw as many bumpers/birds as I wanted this summer but have been playing catch-up lately. He actually loves going in cover more than on open ground. He is scheduled to go to the trainers in early December so he will get a lot more work that way since we are already frozen in up here.
Sonny, owned by Stephen. Seattle Washington and Alaska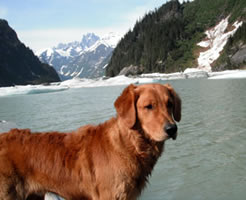 Sonny has made himself at home. There must be some lingering scents from my old dog because Sonny has latched on to all of Buddy's favorite spots straight away.
It's unbelievable how birdie he is. I couldn't figure it out at first, but he kept going into my living room and over to one chair in particular over and over again nudging the cushion with his nose and sniffing all around the chair. I had to go see what he was so interested in. It turns out that the throw cushion on the chair is filled with "Goose Down", as soon as I moved it he lost interest in the chair.
He's great pup! Well done. Many Thanks,
Steve and Sonny
...................................................................................................................................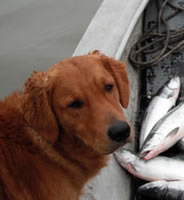 I hope this message finds you well.
Sorry we missed getting Sonny over there this spring,but we had to go to Alaska.
Sonny is over the top!
He is brilliant, confidant and relentless, just as I asked.
I would like to talk to you about more training and competition...
Best regards,
Stephen
Raine, owned by Sharon and Greg. Canada


This is a photo of Raine with Dougald (our friend's 3 year old) and mentor.

She is a delightful addition to our family - is learning so quickly!

Sharon & Greg
Risky, owned by Katherine. Minneapolis, Minnesota
Risky is doing great!

Risky loves being outside. Indoors we call her the "stuffed" dog as she just lays around (not an exaggeration). No chewing, jumping, destructive behavior etc.. We puppy proofed the house but there apperantly was no need. If it doesn't involve birds or retrieving life, according to Risky, is just not worth living. throw a wing clipped pigeon and its a totally different dog.

She goes to daycare three to four days a week and has several good friends including Clover, a Black Russian terrier and Susie, a Chesapeake. All three puppies were born within 10 days of each other. Risky is clearly the smallest of the three by about half but she puts up a good fight an is the scrappiest of the three. So at daycare she is much more active.

She has been field training with us in the evenings. Her longest mark has be about 25 yards. Go out and getting it has been excellent... bringing it back is more than weak. She is now on a long check chord. If she is on the chord she knows that she can not run off so she is compliant and clearly quite bright to be leash wise already.

I will say her dog skills are incredible. Since she was so good when she came home about not nipping or jumping she fit right in with our dog pack and everyone accepted her right away.

She is a great addition to our family!
Selah, owned by Jon and Esther. Bend, Oregon

Hey there Choral and Tiff! We decided to name our pup Selah! Here are some pictures of the first couple day. We are just loving her, she is so sweet and feisty!!!

..........................................................................................................................................

Selah is doing great, I've been meaning to send you some pictures, I will do so soon! She is getting bigger everyday, although she's a petite girl, just 36lbs so far! Her temperment is fantastic, so sweet and smart. We've done a couple of sessions of training with her and the trainer said she might be smarter than us! We just got done taking her on a road trip through California, she seems to be up for whatever we are doing. Loves the water and retrieving too!
Rusty, owned by Rick. Seattle, Washington
I took Rusty to my lake in front of my house today and I closed the gate so he couldn't follow me down the dock. He walked back to the beach put his paw in a couple of times and thought about it. Then walked right in by himself and swam 20 feet to where I was. I praised him with great delight and took him back into the house and dried him off and warmed him up. I couldn't be happier.
Kayti, owned by Ron and Teri. Chelan, Washington

Your "puppy" has delighted us as she has grown into a wonderful, loving companion. These are Kayti's favorite spots to be! Thank you so much!!!!
Clark, owned by Ingrid and John. Reno, Nevada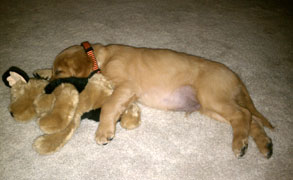 I think that Clark is settling in nicely...he loves his new baby :) ...It was so nice to see you today and we greatly appreciate everything that you have given Clark. We can already tell what an intelligent, inquisitive little guy he is; each time that anyone moves or begins to speak he stops what he is doing to watch and listen. Updates to follow!
Warmly,
Ingrid
............................................................................................................
Choral,
Everything is going really well. Clark and I arrived around 9pm on Saturday night. Thankfully, our drive was uneventful and he was a trooper. He sat in his kennel for the majority of the trip, occasionally sitting on my sister, Hannah's, lap instead. I think that this time spent in the kennel was a really great potty training opportunity; he let us know each time he had to go. We didn't have one accident! We took frequent stops to play, so the drive took much longer than I had originally anticipated. We had great success introducing Augustus to Clark, considering that Augustus is not accustomed to sharing us. He is just like an only child! Gus has been so cautious when playing with Clark; he is very aware of how small he is. Clark has really taken to Gus, so we will have to be really diligent to avoid Clark considering Gus the pack leader. John is absolutely in love; he isn't any happier than while watching Clark run with his nose to the ground! The training begins this week; John has already brought home some feathers from a recent hunting trip. I think that I may have mentioned this in my last email, but we are so impressed by Clark's inquisitiveness and fearlessness. He will likely take patience and consistency to train because he is so willful, but we are up to the challenge and so glad to have such an intelligent, eager, and affectionate pup. He has this great expression when he is watching us, where he cocks his head and furrows his eyebrows; he is such a little man! Right now, my favorite Clark activity, is our early morning walk, just the two of us. He prances along, so proud of himself, as though I am giving him complete freedom to follow me; I'm not sure that he has discovered that he is attached by a leash and that I am actually the one calling the shots! We are now fully transitioned from his original food to the Eukanuba. He hasn't had an upset stomach and his stool is entirely solid, so I think that we have successfully gotten over any hump generated by the stress of the change of environment. How much do you expect him to be eating per meal right now? I know that we went over this, but I think that he is eating like a bird! :) I will take some more photographs this week, some with Augustus, and send them. I hope that everything is going well in your neck of the woods!
Warmly,
Ingrid, John, Augustus, and little Clark
Bentley, owned by Jennifer. Coeur d'Alene, Idaho

Hello! Bentley is doing great! He looks a lot different then I thought he would at six months though lol. He is only 45 lbs, very curly!, and still looks like a puppy haha but I really don't mind. His paw is still white, and I get a lot of questions asking me if he's full golden, but I tell everybody its unique and I love his white paw:) My boyfriend and I just rented a house in Coeur d'alene, Idaho and the dogs have a huge backyard to play in now so they are ecstatic. His big sister boxer, Maddie, loves him and he loves her so much! By friend from work is actually going to work with him and I on agility training in a couple months so I'm so excited for that. He has a lot of energy so I think it would be a lot of fun for him.
Buffie, owned by Steve and Ellie. Hamilton, Montana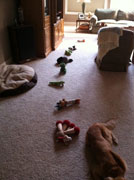 Ok, anything to this? We left the room and when we came back all of her toys were in a single line. Do you teach them that or is she just really smart? We are having so much fun with her and she is better all the time.
Thanks
Steve
.................................................................................................................................

Just wanted to give you an up-date. She is adjusting very well. We watched the ball game today. She is walking me to death but that's ok. She wants to run, but we are keeping her on lead. She is doing great at night. She and I have bonded very well, kind of leaves Ellie out now she wants a dog. LOL. I' ll send pics
Riley, owned by Cathy. Gig Harbor, Washington

She LOVES the water and being in the boat!

She's smart and obedient, easy to train - does well with "clicker training". She's very confident and social - goes to doggie daycare 2-3 times a week.

- Cathy
Bliss, owned by Larry. Running Springs, California
Well Bliss is doing just fine and gets along well with Jake the GSP.... Bliss is happy just walking and running with my wife. She made certain to make the rounds last night, and shower hugs and kisses on each and every family member last night. What a politician... everyone adores her. I will work with her on quartering in a few weeks. You've done a real nice job with her. She is sleeping at my feet as I write this e-mail.
Bullitt, owned by Bill and Lisa. Los Angeles, California

Here are a couple of photos to update you on Bullitt's progress. One in the grass is 4 months, and the one on the hearth is about a week ago. He has become a great dog, loves all kinds of people and other dogs. Enjoys retrieving, next up catching a frisbee. He still has his puppy moments of course, but all in all a great dog. House training was easy with very few accidents, most of which were my fault. As you can see he is very handsome too!

Bill
Molly, owned by Judy and J.D. Issaquah, Washington
We have our beautiful little girl at home now… thank you so much! Its just me and the girls for a few days, and they are in love with her… and she seems to love them, too. It's been a pleasure meeting you… and I'm sure we'll see you again soon!

Once again, thank you so much for helping us find our perfect pup.
Riley, owned by Nikki and Chris. Tri Cities, Washington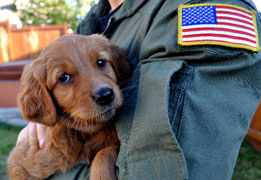 This is Nikki and Chris, Riley's parents. We hope you are doing well and enjoying your summer! Riley is doing great, she is almost a year! We can't believe how fast it went. She was actually getting a check up at the vet the other day and is 52 lbs and healthy. She has completed 2 puppy classes and is always excited to learn something new. She is such a lover dog always looking for attention, just like she did when she was a puppy and picked us out.
Chris is deploying in the late fall and I am looking to go abroad for a few months for school and remembered you telling us about your retriever training programs. We were wondering if you could give us more information about it please. I think she would love spending some time on the farm being able to chase more pigeons.
Hope all is well and looking forward to hearing from you!
Nikki, Chris & Riley
.....................................................................................................................................................
We wanted to give you a little update with Riley! First we want to thank you for adding to our new family! Riley brings us so many smiles, laughs, and of course new challenges. She is doing so good.... possibly to smart for her own good. She sleeps through the night in her kennel and has never gone to the bathroom in it, she is learning how to bark by the door when she has to go out, she can sit, and loves to play catch. We are working on the leave it and not eating our leather couches. But she got her shots, heart worm meds, and safe guard. The Vet said everything looks great! Puppy school starts this Saturday, which is nice she will be 11 weeks and the both of us will be able to be there so we can learn together and stay on the same page.
We drove up to Mt. Baker yesterday. She loves being in the car..... such a princess. We made a towel bed on the center council and she sits between us, loves to look out the window, and of course snuggles. Baker had about 2 feet of snow and she LOVES playing in it!!! So funny watching her hop like a bunny. Riley also made friends with some neighbor girls. There are 4 girls between the ages of 6-10 that love playing with her. So now we get knocks on the door "Can Riley come out and play" My Chicago friends love making fun of me for being the neighborhood mom with a white picket fence..... their jealous.
Anyways, hope everything is going well with the rest of the pups. I can't believe how nice fall is and probably nicer in your area. Have a great Halloween! Riley is going to be a Bumble Bee and go trick or treating with the neighbor girls.
Back to top of page