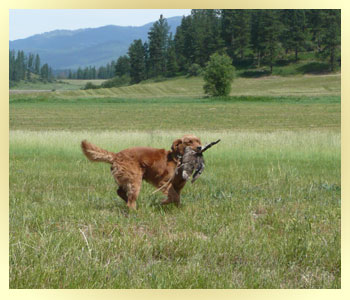 SkyRiver Golden Retrievers
Professional Retriever and Gun Dog Training
We believe that with fair and consistent training, every retriever can reach heir full potential. Whether you own a flushing retriever or a waterfowl retriever, we can customize our training to suit your dog. No matter what type of hunting you do, your dog should work with you, be confident, and eager to hunt. We specialize in training field-bred Goldens, and train every breed with a gentle hand. Your dog is part of your family, and we give each dog quality training and care that reflects this.
Hunt Test Training Program

We train every Hunt Test retriever to be confident, watery, and to love what they do. We teach through attrition, showing the dogs each new concept so they always run confidently and with style. We have plenty of experience with sensitive dogs, and so we are able to adjust our training style to each dog's individual needs. For more information about Hunt Test training for retrievers, please Contact Us.
---
Upland Retriever Training Program

A great upland retriever must be confident, eager to hunt, and willing to work with the hunter. They must have the knowledge and experience to use their skills and their nose to find birds in thick cover and other challenging terrain. Your dog will learn to use their nose and bust through thick cover in search of game. A good bird dog must be trained on birds. We use a variety of live and dead birds, including pigeons, quail, chukar, ducks, and pheasants. Your dog will also learn to quarter, mark the fall, and deliver to hand. For more information about Gun Dog Training, please Contact Us
---
Waterfowl Retriever Training Program

A great waterfowl retriever needs to be a good marker, take straight lines to fallen birds, and be steady and quiet in the blind. Advanced gundogs can be taught to handle to birds they didn't see fall, or "blind" retrieves. Your dog will learn to mark with both bumpers and birds, and to retrieve from the land and water. We teach the dogs many different types of retrieves, including open water and multiple entry retrieves, so that no matter where you hunt your dog will have the confidence to push through obstacles to retrieve a fallen bird. Your dog will learn to use their nose to search for a fallen bird in different types of cover, take a straight line back to you, and deliver to hand. For more information about Waterfowl Retriever Training, please Contact Us
---
Headstart Puppy Training


Headstart training is a great benefit to owners who do not have the time or knowledge to raise a Hunt Test or hunting retriever. The best dogs often have begun their training with dummies and real birds as soon as they are weaned. By making retrieving an exciting experience early on, your dog will have a love of retrieving all their life. This is our favorite part of what we do; the puppies are played with, trained, socialized, and given the foundation be a great family and retrieving companion. For more information about Headstart Puppy Training please Contact Us.
Sonny, a past Headstart Pup from the Sassy x Ruff litter :